3-D CAM System FFCAM
STL Model Machining
It is possible to recognize the model with a mix of polygon and parasolid models as the machining form and generate machining paths.
Using this feature, polygon models which have the advantage of form expression can be used for the overall design and parasolid models which have the advantage of accuracy can be used for parting surfaces and model structure to employ both advantages when designing a model.
KEY features
Ditized data and design geometries (CG) are output as STL data.
It can accurately reproduce a shape for which no drawing exists.
Not select the machining material. The performance of the prototype readily verifiable.
Smooth processing of huge gigabyte-size volumes of STL data.
Flow of data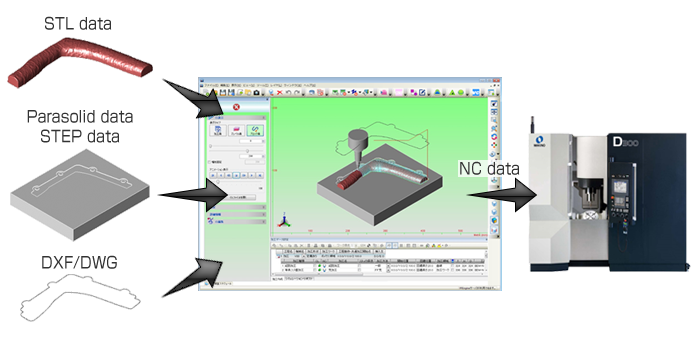 Machining Examples
Machining from Digitized data
Direct scanning on component
Design by CAD system (Other products).
Processing of high volume STL data.
Processing by High Speed and High Accurate MC.
Machining from Medical data
Created using the medical image processing software (other products).
I hope the above is useful to you.
Should you need any further information, please do not hesitate to contact me.
Contact Us By Phone : +81-3-3724-3653
Contact Us By E-mail : support@ffcam.makino.co.jp
Design example using a Photo
The machining by STLCAM for polygons mapped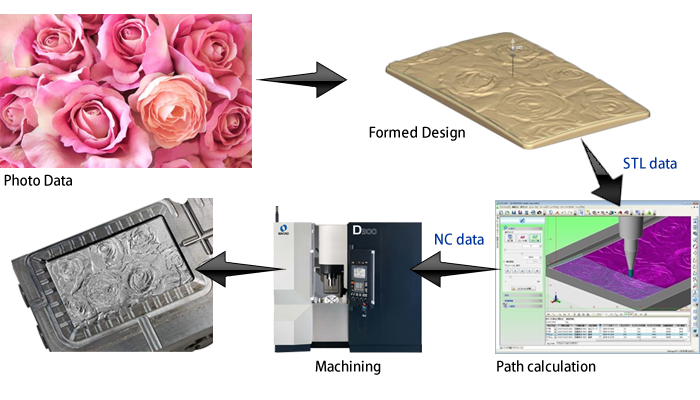 Machining Examples
Create a metal relief from the photograph of the cherry trees.
For the initial trial, STL data was smaller than now.
Sakura Relief
Machine : V33
Material : S55C
Cycle time : 15h 52min.
Tool : 4 kinds , 5 pc
Size : 100 x 100
STL data size : 79.9MB
No. of polygon : 1,677,696
Scanning the ginkgo skin in 3D digitizer scanner (other products).
We were cutting for the reproduction test.
Bark scan data
Machine : V56i
Material : PX5
Cycle time : 12h 3min.
Tool : 4 kinds , 6 pc
Size : 370 x 95
STL data size : 1.46GB
No. of polygon : 31,456,804
It can output NC-Data for models from an picture(ray scales) by CAD.
Galusha pattern relief
Machine : V22-5XR
Material : NAK80
Cycle time : 8h 14min.
Tool : 3 kinds , 3 pc
Size : D70 x 50
STL data size : 399MB
No. of polygon : 8,382,768
It can output NC-Data for models from an picture by CAD.
The realistic texture of the leather can be easily mistaken as the real.
Leather pattern graphite
Machine : V22 GRAPHITE
Material : GRAPHITE TTK-8
Cycle time : 27h 19min.
Tool : 4 kinds , 5 pc
Size : 75 x 150
STL data size : 26.4.5MB
No. of polygon : 5,549,978