3-D CAM System FFCAM
Useful functions for toolpath generation
The operation is very simple, and an advance special knowledge is not required.
A beginners can be easily operated, a significant reduction in model editing time can be expected.
Useful functions for toolpath generation
Tool-path Assist
Toolpath Assist allows you to extend the path instead of creating surfaces in CAD and ignore the holes that are in the cutter path.
Since only the motion has to be specified with Toolpath Assist function without creating surfaces, managing machined surfaces for each type of machining is not required.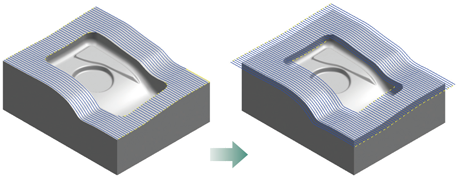 Extension
This function is used to extend toolpaths slightly such as for executing sharp corners or enlarging the area to be machined.
Extending the toolpath prevents sloppy corners and avoids leaving tool marks at the boundary of the machining area.

Ignoring Holes
This function creates toolpaths that ignore specified grooves and pockets to be machined later with another tool.
It is handy for dividing the machining area on the basis of grooves or pockets.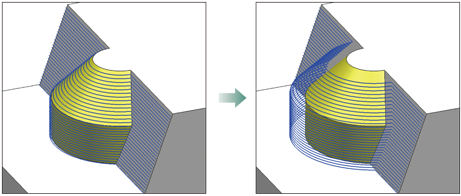 Detach from Face
Depending on the machining process, there are faces that you do not want the tool to touch , such as those already finish machined or ones to be machined later.
With this function , such faces can be specified for non-contact with the tool.
One Click Masking
One-click Masking masks the areas that are not machined during the machining, such that the cutter path is generated only for the required locations.
The geometries prepared with One-click Masking can also be used by setting it for machining geometry or Toolpath Assist.
Masking Hole
This function is used to mask grooves, holes and i\nsert pockets to be machined later by EDM.
All types of holes can be masked by simply clicking on the top of a hole.

Bury a Drill Hole
Many drill holes in a part shape can be buried all at one time with this function.
The size of holes to be buried can also be specified This makes it possible to bury just the holes to be drilled and to leave all the holes to be machined with an end mill.

Masking a Notch
This function eliminates notches midway in a face to be machined, thereby creating a simple machining area for which the toolpath can easily be generated.

Plug a section between Two Curves
This function applies a face between two edges.