3-D CAM System FFCAM
Great Database
With reference to the machining conditions database, Spindle speed, Feedrate and cutting depth are determined automatically.
It can be shared between the PC on the network.
Be able to use machining conditions that provided by tool manufacturer.
Machining Conditions Database
Makino has created a database of highly practical machining conditions based on the data obtained in actual cutting tests conducted with Makino's own machines.
The optimum spindle speed , feed rate and cutting pitch are automatically determined by simply inputting the workpiece material and tools to be used.
This enables even beginning operators to generate workable NC program.
The database contains over 1,000 types of conditions just for solid ball end mills.
The conditions are suitable for machining a wide variety of materials, ranging from carburized steels, pre-hardened steels and high-hardness steels to aluminum materials.
Machining conditions are generated for achieving high efficiency with respect to machining time, machining accuracy and tool life,while taking into account the deflection and deformation that can occur during machining depending on the diameter and length of the tools used.
The spindle speed, feedrate and depth of cut are all determined automatically.
FFCAM has a comprehensive machining condition database for machining in the high-speed range at 40,000 min-1. This facilitates safe machining even with small-diameter tools of less than 1 mm in diameter.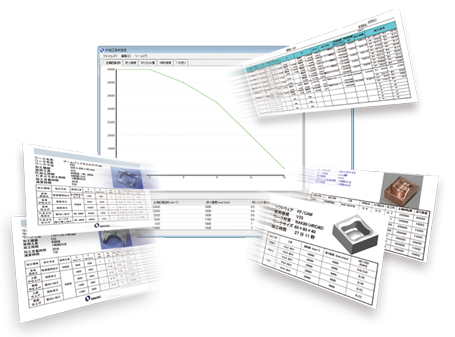 Tool/holder database and cutting condition
database by tool Manufacturers.
Register the tools data and reference cutting conditions offered by tool
manufacturers and tools data used by user frequently.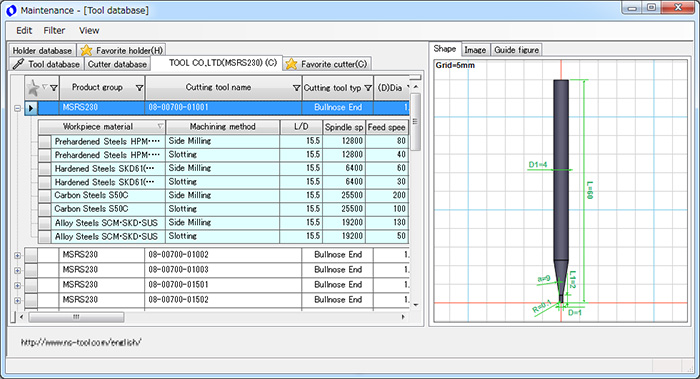 Process Database
Sharing of technology and know-how
Store the machining process user have created, and use it as original.