3-D CAM System FFCAM
Simple & Smart
FFCAM is consistent the concept of "Smart & Simple", has continued to develop and improve.
Use the FFCAM, anyone can create NC program easily in a short time.
FFCAM can be expected to reduce lead time. So MC will not wait for the NC program.
Easy to use, easy to understand and easy to look.
FFCAM has user friendly interface. So the operators don't need the manual.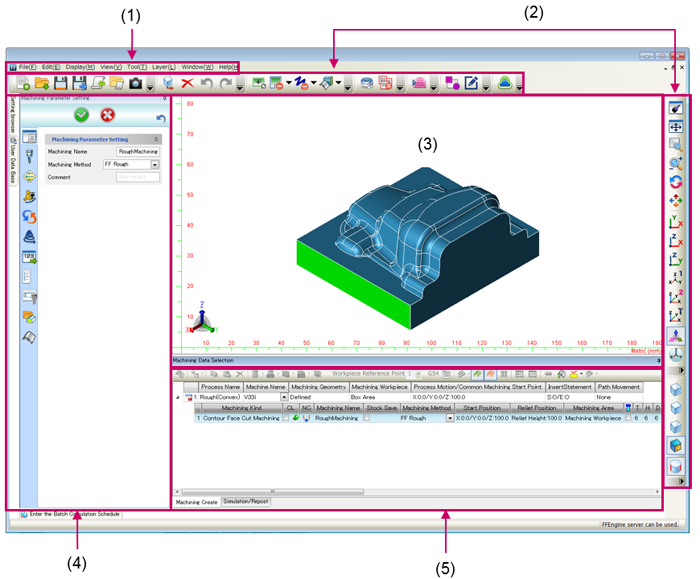 (1)

Menu bar
Basic menus

(2)

Toolbar
Buttons showing each menu icon are displayed side by side.

(3)

Graphics window
Geometry or CL data (tool path) are drawn in this window.

(4)

Operation panel
The setting screen for each function is displayed.

(5)

Main window

he main window is used to manage processes and machining, and to execute simulations or post-processing, etc.
The Main window has the following three functions.

Managing processes and machining
Cutting simulation
Post-processing

See the "Configuration of Main Window (Common)" on the next page.
Raise operation rates
The problem at the production field is the yield ratio of industrials by delay of NC program.
Even if the MC is latest one, the operation rates would not be raised by delay of NC program.
FF/cam's target is the fastest to output the NC program.
Compare with general CAM, FFCAM has less step to generate the NC program.
So MC will not wait for the NC program.


It can be created only by setting four items.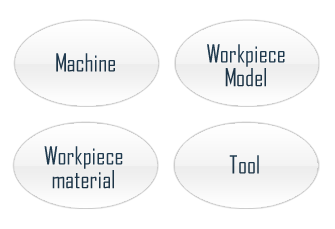 Simplified Entries
FFCAM has normal machining parameters as the template for rough, finish, corner and other machining. It is also available to edit the templates and register it which the customer edited.
Therefore, customer's original method for machining can also be built up. If the customer uses these templates, a new machining toolpath can be created only by setting following four items.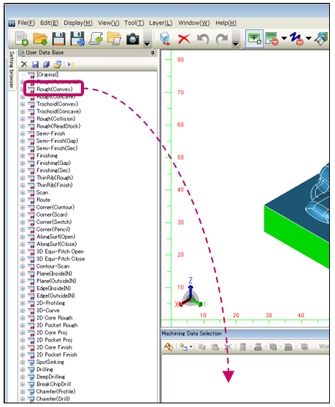 Use Template
Select machining to be set from the [User Data Base] displayed on the left of the screen.
Select one of the machining methods and drag and drop it to the main window to copy the machining.
The initial values of the parameters required to calculate the path are previously registered in the user database. Copying the MC method from the user database allows the path to be calculated with the minimum settings.